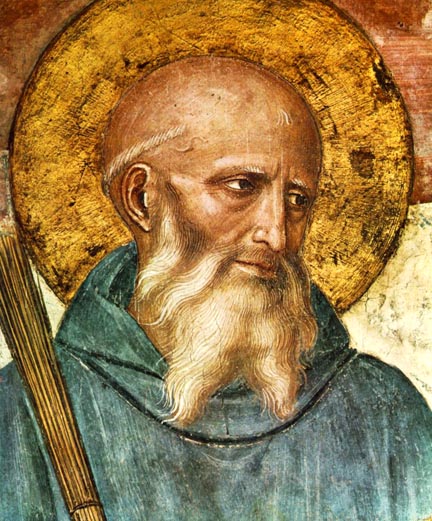 From the Wikipedia page
:
"The
Rule of Saint Benedict
(
Regula Benedicti
) is a book of
precepts
written by
St. Benedict of Nursia
for
monks
living communally under the authority of an
abbot
. Since about the 7th century it has also been adopted by communities of women. During the 1500 years of its existence, it has become the leading guide in Western Christianity for monastic living in community for many Catholic Orders, and in
Orthodoxy
(since The Great Schism), and the Anglican Church (since the time of the Reformation).
The spirit of St Benedict's Rule is summed up in the motto of the Benedictine Confederation: pax ("peace") and the traditional ora et labora ("pray and work").
Compared to other precepts, the Rule provides a moderate path between individual zeal and formulaic institutionalism; because of this middle ground it has been widely popular. Benedict's concerns were the needs of monks in a community environment: namely, to establish due order, to foster an understanding of the relational nature of human beings, and to provide a spiritual father to support and strengthen the individual's ascetic effort and the spiritual growth that is required for the fulfillment of the human vocation, theosis."
It is a simple, yet profound guide to the monastic order which has endured, through its common sense and chastity, through the centuries, and of which, in many of its parts, we also attempt to follow here at the Bhaktivedanta Ashram here in NYC.
Some excerpts:
Now, brethren, that we have asked the Lord who it is that shall dwell in His tabernacle, we have heard the conditions for dwelling there; and if we fulfil the duties of tenants, we shall be heirs of the kingdom of heaven.

Our hearts and our bodies must, therefore, be ready to do battle under the biddings of holy obedience; and let us ask the Lord that He supply by the help of His grace what is impossible to us by nature. And if, flying from the pains of hell, we desire to reach life everlasting, then, while there is yet time, and we are still in the flesh, and are able during the present life to fulfil all these things, we must make haste to do now what will profit us forever.
If we do not venture to approach men who are in power, except with humility and reverence, when we wish to ask a favor, how much must we beseech the Lord God of all things with all humility and purity of devotion? And let us be assured that it is not in many words, but in the purity of heart and tears of compunction that we are heard.