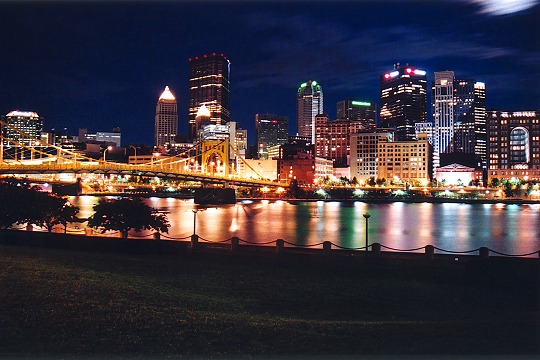 Reporting from New Vrindaban, its absolutely warm and peaceful. Everybody you know and see brings a smile and a joke. If you get in the right frame of mind, you can actually realize there is nothing to fear, and the taste of the Lord becomes vivid and real.
On Friday night, Caitanya and I made our weekly sojourn into Pittsburgh to the campuses of Carnegie-Mellon and U-Pitt. We were the opening act for well-known alternative rock act
Spoon
, who was performing a free show on the campus of CMU to celebrate the last day of classes.
Now, by opening act, I don't mean we stormed the stage, although we thought about it. Actually, we did nice, humble kirtan in one of the big public corridors leading out to the campus area where the concert was being held. Most everyone going to and coming from the show got a chance to hear the Holy Name of Krsna, and many directly appreciated. We even got a nice contact from a successful yoga studio in town, and we hope to do some transcendental business with them as our programs in Pittsburgh continue to evolve and become more solid.
It is very interesting to observe the material modes of nature (goodness, passion, and ignorance) as the many varied college students walked by us. Some ignored our kirtan, some danced, some smiled, and some dropped some change our way. In any case, it is our sacred duty as young devotees to hit the streets with sounds and books, and we are always looking for dynamic ways to do so.
It was also a gas to be with Caitanya. Him and I go back a ways to the hip streets of Ann Arbor, Michigan, and we are developing a sense of humor between us that is quite something to behold. We are hoping to do a show where we roll off our impressions of everyone who lives here at New Vrindaban. It's the best way we can show our love and appreciation.
One of the signs in front of the stage where Spoon played said "If you are visibly intoxicated, you will be asked to leave." Considering we were intoxicated with kirtan and the various spices of our transcendental humor, it was lucky we didn't end up in the slammer.
We ended the night well into the morning by joining our friends at the Oakland Tea House for their final program of the semester, talking and sharing spiritual insights until nearly 2am! We would once again like to thank all those who organize the Tea House for allowing us crazy monks to come up and share food and wonderful conversation. We hope to continue the fun next year, hopefully in conjunction with our planned Vegan cooking class which will begin in the fall.